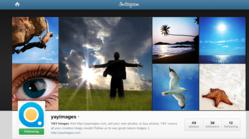 New York, NY (PRWEB) April 11, 2013
Stock Image Agency YAY Images is proud to present YAYs New Photographer Blog, and Social Media Profile on Instagram and Pinterest.
The stock image company YAY Images recently launched their new photography blog. The blog is aimed at photographers and image users, and will feature information about images and vectors.
Image of the week is a weekly column where the image reviewers working at YAY will choose one image from the last week to showcase. The image will be presented with a full review of why its chosen, why its good image, and suggestions on how to use it.
The image blog will also feature tutorials on photo and vector topics, beginning with basic know-how and how-to.
YAY has also launched new social media profiles on Instagram and Pinterest. According to YAY they are using these social services to share some of their beautiful, breathtaking and funny images with the world. YAY also views it as a great way to communicate with both image users and photographers.
The image agency YAY Images is a crowd-sourced company, representing over 7,000 photographers and close to 4 million royalty free images. Photographers get up to 50% commission, and access to YAYs partner distribution. For customers YAY offers a user-friendly site with great stock images at budget prices. High-res are priced as low as $ 3.2, and with only $ 1.95 for a blog image its clear that YAY is targeting the blog market.
YAYs strategy of high-quality images at budget prices is popular among image users. Rumors have it that YAY soon will release new products and services, so this is indeed a company to keep an eye on.