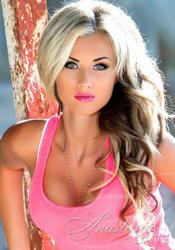 (PRWEB) May 19, 2013
AnastasiaWeb is the internationally popular dating service offering a high quality online dating experience. Men from all over the globe are meeting beautiful international ladies thanks to AnastasiaDate. This month the company announced they are receiving record numbers of visitors to their YouTube channel, where viewers can see videos of a selection of the eligible, stunningly beautiful ladies who are looking for love and companionship. This month alone, the company has broken viewing records for their YouTube videos.
One of the most popular videos, which has received over 190,00 views, is an introduction to the AnastasiaWeb CamShare service, a unique facility offered to members. CamShare is becoming increasingly popular as a way for members to talk to each other and get to know each other in a relaxed atmosphere.
AnastasiaWebs Chief Communications Office, Lawrence Cervantes, told us in an interview recently, Our YouTube channel is growing in popularity on a daily basis. We currently have 52 videos available for viewing, showing examples of the lovely ladies who are available and hoping to meet nice gentlemen with our online dating service.
Mr Cervantes continued by saying, We offer a safe online dating experience for our clients. Client privacy, and the high quality services we provide, is of paramount importance to us. One of the services receiving a great deal of attention is CamShare. Using state-of-the-art video chat technology, we have created a service which allows our members to meet and talk to each other via live video chat on AnastasiaWeb. The YouTube videos about this service are being viewed by people in their thousands on a regular basis.
Mr Cervantes also told us, We are using todays technology to give our clients a safe, comfortable environment where they search, browse and meet their perfect partners online. AnastasiaWeb is growing in popularity amongst men around the world who are looking for their perfect female companion.
The YouTube channel is just one of the social media platforms AnastasiaWeb uses to engage with clients and spread the word about their popular online dating service. They also have followers on Facebook and Twitter where they receive positive reviews and praise from happy clients. Word about this popular dating service continues to spread across the globe as more and more international ladies meet suitable romantic companions.
Anastasiaweb has been successfully providing a high quality international dating service for over 20 years, and as each successful year has passed, they have improved the dating experience for their clients by using the best technology available.
AnastasiaWeb will be posting news videos for their viewers on a regular basis. In addition to video news about dating services, they will be using their YouTube channel to post and share success stories of happy couples who have found love after meeting on AnastasiaDate.
About Anastasia Date

AnastasiaDate is a premium, international dating site helping singles to find romantic companions with beautiful women from all over the globe. The company now enjoys over 4 million international members. Their popular website attracts over 10 million visits per month. AnastasiaDate provides their members with a safe, secure and pleasant online environment for members to meet their romantic partners. The company is known for the high levels of customer service to their international clientele and their state of the art website and social media sites which include video chat and a popular mobile app for Google Play store.