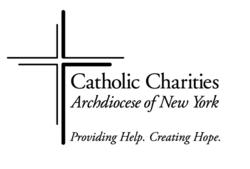 New York, NY (PRWEB) May 25, 2013
His Excellency Timothy Michael Cardinal Dolan and the Board of Trustees of Catholic Charities of the Archdiocese of New York will honor Eugene M. McQuade, Chief Executive Officer, Citibank and Stephen J. Brogan, Managing Partner, Jones Day at its Gala Benefit at The Waldorf-Astoria in New York City tonight at 6:30 p.m.
The Catholic Charities Annual Gala permits us to create stronger partnerships among New Yorkers, stated Executive Director Msgr. Kevin Sullivan. Our outstanding honorees, their colleagues and friends along with generous Catholic Charities donors come together to ensure that New Yorkers in need non Catholics and Catholics alike are helped with meeting basic human needs so that they might live their lives in greater dignity.
This signature black tie dinner will convene a dynamic group of New Yorkers from the worlds of business, philanthropy, culture, fashion, law, media, politics and religion who share a deep concern for the well-being of our fellow New Yorkers in need. It raises more than $ 2 million annually.
Pat Battle, anchor for NBC4 New York, will serve as Mistress of Ceremonies. Award-winning actress, singer and recording artist Liz Calloway, who held leading roles in several Broadway productions including Miss Saigon and Cats, will perform live.
Over the course of a career spanning more than three decades, honoree Eugene M. McQuade, has distinguished himself as a business and industry leader. Before joining Citi as Chief Executive Officer of Citibank in 2009, he served as Vice Chairman and President of Merrill Lynch Banks (U.S.) and previously had been President at Freddie Mac, Bank of America and Fleet Boston Financial. He is a Trustee to the Boys & Girls Clubs of America and the American Ireland Fund.
Tonight is a celebration of the terrific work Catholic Charities does every year to ensure that our neediest New Yorkers, regardless of faith, get the support they need to improve their lives, said Mr. McQuade. Im gratified and humbled to be recognized, but tonight is about shining a spotlight on the enormous positive impact Catholic Charities has on our city.
Fellow honoree Stephen J. Brogan, Managing Partner of Jones Day since 2002, began his career with the firm while still a student at Notre Dame Law School. He worked as Deputy Assistant Attorney General at the U.S. Department of Justice from 1981-1983. He serves as Chair of the Academic and Faculty Affairs Committee of the Board of Trustees of the University of Notre Dame. He is also a member of the Board of Trustees of the Cleveland Clinic.
The long history of Catholic Charities' dedicated and selfless service to people in need in the City of New York is a very important manifestation of the Catholic Church's commitment to social justice and to the care of the less fortunate," said Mr. Brogan.
The Gala Benefit 2013 begins at 6:30pm at the Waldorf Astoria, 301 Park Avenue, New York City.
About Catholic Charities of the Archdiocese of New York

Catholic Charities, a federation of approximately 90 agencies and programs located throughout the 10 counties of the Archdiocese of New York, helps solve the problems of New Yorkers in need non-Catholics and Catholics alike with services that protect and nurture children, resolve family crises, assist the hungry and homeless, support the physically and emotionally challenged, and integrate immigrants and refugees. For more information on how to donate or volunteer, please visit our website at http://www.catholiccharitiesny.org.
Related Social Media Press Releases